Mario Badescu Hyaluronic Eye Cream Description
Mario Badescu Hyaluronic Eye Cream is marketed as a lightweight eye formula that can effectively brighten and hydrate the under-eye area. It can lock in moisture without leaving a greasy feeling. Last but not the least, it also claims to reduce fine lines and wrinkles.
In this Mario Badescu Hyaluronic Eye Cream Review we'll start off by going over the general description of the product above, then we'll move on the positives and negatives we've researched on this product. We'll then cover the remaining details about the brand, how to use the product, and what we personally think when it comes to whether or not you should purchase this product. Let's get started!
Overview
As mentioned on its website Mario Badescu established his skin care company in 1967 with the hopes of bringing European style facials to New York City. Up until now, this company remains to be one of the best companies that offers a wide array of products, ranging from anti-aging solutions to acne treatments.
The manufacturer suggests for best results pat a dime sized amount of eye cream around the eyes with the use of your ring finger. Apply along the inner corner of the eye area to the orbital bone to the outermost corner of the eye. If products get into your eyes, rinse it with water right away.
A 0.5 oz (14 g) of Mario Badescu Hyaluronic Eye Cream costs $18 and is available on the official Mario Badescu website and other third party retailer sites.
Special Offer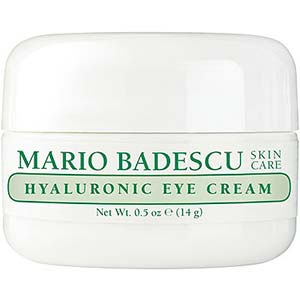 Mario Badescu Hyaluronic Eye Cream
Mario Badescu Hyaluronic Eye Cream is an excellent eye cream for fine wrinkles and dark circles. This eye lotion for brightening features vegan collagen, genuine gold, a triple vitamin C complex, and antioxidants.
Mario Badescu Hyaluronic Eye Cream Ingredients
Hyaluronic acid
This ingredient is a powerful humectant that can retain the moisture levels of the skin, keeping it hydrated and well moisturized minus the heavy and greasy feeling. Namely, some people complain that their skin dries out after using hyaluronic acid.
Safflower Seed Oil
This oil contains high amounts of essential fatty acids that can replenish moisture and nourishment of the skin, tightening it and diminishing the visibility of wrinkles and fine lines.
Aloe Vera extract and Euphrasia extract
Both of these plant extracts work hand in hand in brightening the eye area as well as soothing the sensitive part of the skin. These extracts also help calm any skin irritations and inflammation. Though it may also cause rashes on the skin & itchy skin.
Pros and Cons of Mario Badescu Hyaluronic Eye Cream
It is suitable for all skin types.
The eye cream is lightweight and easily absorbable.
The eye cream can be used under makeup.
The product is acrylate-based.
The product contains alcohol.
Users claim that the product caused skin and eye irritation.
User claims to have itchy skin and skin irritation!
This products leads to skin rashes!
Some people also claimed that this product gives you extreme dryness over skin!
You May Like This – IT Cosmetics Confidence In An Eye Cream
Guarantee
Mario Badescu offers a 30-day money back guarantee. If you are not happy with the results of Mario Badescu Hyaluronic Eye Cream, you can have it returned for full refund or exchange considering that you return it 30 days within the purchase date and you have bought it from official website.
Conclusion
As we all know, the eye area is the most sensitive part of the skin, so it is a must for us to use eye creams that are safe and gentle to the skin. Is this eye cream the one that you are looking for?
To begin with, many users claim that the eye cream has irritated their eyes and skin. It does not come as a surprise because of the second listed ingredient of the cream polyglycerylmethacrylate, meaning it is acrylate-based and this chemical may cause skin irritation. In addition to that, the cream also contains alcohol which can be drying to the skin and may combat any moisturizing effects that other ingredients have.
We highly recommend that you choose an eye cream that is not acrylate-based and has good reviews.