There is no denying the fact that subtle and understated jewelry has a certain charm to them that you cannot resist. They look simple and perfectly complements your classy outfits. These pieces of jewelry already look quite perfect, even if they are small in size.
But the fact also remains that nothing can get ahold of our attention than stunning and bold jewelry. Yes, understated jewelry may look classy, but nothing can beat the power that wearing a statement jewelry can give you. That is the reason why these types of jewelry have been in the industry for as long as we can remember.
In the event that you feel that statement jewelry has been making the same statement for over a few years now, you will be happy to know that these pieces of jewelry are already going through an update. Today, you can find different bold jewelry designs that will suit your personality and will look more modern and suitable for today's trends.
If you are one avid fan of statement jewelry, then you might be looking for the latest styles and trends today. Well, here are some of them:
1. Swarovski Chandelier Earrings
This style of earrings actually gives you the best of both worlds—it is fine and dainty jewelry that comes in a big package. It is classic glam at its finest! But since these earrings feature either gold plated or silver with Swarovski crystal designs, these are best worn to formal events and gatherings. It will certainly give your outfit the oomph that it needs!
2. Pearl Cluster Earrings
This is a modern version of your dainty and subdued pearl earrings. This style features small pearls arranged in a cluster, creating a chandelier earring that screams class. The vintage design and the use of freshwater pearls give a new meaning to sophistication.
3. Collar Necklace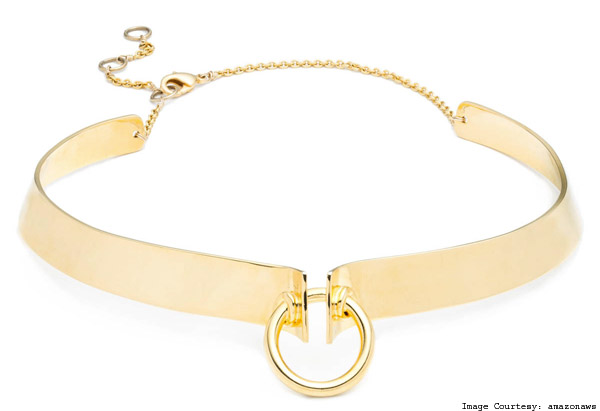 Collars are used to give our outfits a formal and classy look, and that is exactly what the collar necklace is all about. Most collar necklaces today come in solid neutral colors like black, white, brown and blue. But if you want an attention-catching style, we highly recommend the beaded or sequined ones. With its simple yet stylish design, a collar necklace can give your plain looking outfits a classy update.
4. Bib Necklace
These look almost the same with the collar necklace, but instead of the collar design, this necklace features a bib design, meaning it covers almost the entire chest area so you can imagine how big and bold that can be! Another amazing thing about this necklace is that it comes in bright colors and eye-catching designs that you surely cannot resist! Considered to be one of the chunky necklaces that are perfect to be worn with plain colored tops and dresses, this necklace will give any outfit a wow factor.
Related: LATEST SUMMER JEWELRY TRENDS YOU SHOULD DEFINITELY TRY THIS SEASON
5. Cuff Bracelets
At first look, these bracelets look like they are handcuffs (hence the term cuff) but these bracelets will soon be your favorite accessory! Just like the chunky necklaces that we have mentioned above, cuff bracelets are another favorite summer accessory mainly because there will be no dull outfit with them! Its designs range from artsy to classy to edgy and are perfect for just about any clothes that you have. We have seen this bracelet being worn with dresses, pants, jumpsuits, shorts and even, oversized sweaters. And guess what? No matter what you are wearing, these bracelets will never fail to give your outfit that extra sparkle that it needs!
6. Hoop Earrings
A perfect pair of diamond or gold studs will never go out of style, but they can never be as stylish as the big, round hoop earrings that many celebs are fond of wearing. With the fall and summer season almost here, now is the perfect time for you to put your delicate and small earrings into storage and let these big and bold earrings take center stage. The best thing about these earrings being in style this season is the wide array of designs that are available, meaning you can find something for every occasion. With hoop earrings, your everyday outfit will never look the same.
7. Chunky Rings
Of course, rings will never be left behind. If you have seen big necklaces, bold earrings, there are also what we call chunky rings. These rings are so big that they can occupy almost ¼ of your finger. They also come in varying metals, designs and colors. They might be a bit over the top, but with these rings on your finger, you won't need another accessory to make your outfit noticeable—that's a guarantee!
8. Ear Cuffs
These are like cuff bracelets but for the ear! If you are a bit doubtful with wearing chandelier, drop or hoop earrings, then ear cuffs are the next best thing for you. Instead of hanging from your ears, this style frames your ears, making it more noticeable. You can wear it with traditional earrings for a more edgy and attention-grabbing look.
9. Raw Cut Jewelry
Today, uncut minerals are all the rage, and we are not surprised! After all, these unpolished gems have a certain charm to them that is like no other. Many models have sported necklaces with big and raw stones that are not polished, and we can't help but admire their rawness. Yes, people! It's time that we learn to embrace imperfections and find beauty in them, and that is what this jewelry is all about!
We know! We know! These styles are quite exciting and mesmerizing and you most probably can't wait to try all of it, especially that the summer season is just around the corner! At first, these are quite intimidating to style and wear but they can certainly add a touch of sophistication and style to your clothes, no matter how plain they look! So what are you waiting for? Try these out and you are surely in for one stylish summer season!
"Hope you find the post helpful and we excited to hear what you think of it!"