When it comes to jewelry, we have always adored the polished, perfect looking ones. After all, isn't that what jewelry is all about—to add a touch of sophistication, class, and elegance to your usual everyday outfit? That may be true, but recently, we have seen a big change in the various trends that are reigning in the jewelry industry.
This spring, we have seen the rise in the popularity of rough and unpolished natural stone jewelry. There is no denying the fact that diamonds are still a girl's best friend.
However, the raw crystal jewelry that has become popular nowadays have that cool and edgy charm to them that we cannot resist.
These days, people are more into unique cuts, rough textures and natural shapes of gemstones and that are why it comes as no surprise that the runways of 2017 are filled with models and celebrities donning their precious, unpolished and roughly cut gemstones.
Why Is Raw Stone Jewelry All The Rage These Days
Yes, raw stone jewelry is all the rage nowadays, and the pieces seen on the catwalks are a testimony to its popularity. The Givenchy collection featured big slabs of precious blue stones while the muses of Dries Van Noten wore geometric drop necklaces that are humongous and imperfectly cut. Elise Saab also paired her ethereal looking clothes with unenhanced raw crystal necklaces, earrings, and pendants.
So why have these types of jewelry became popular? The answer is simple—we are starting to love imperfection. Gone are the days when we demand everything to be in its proper places. Today, we are embracing chaos and the beauty that comes with it, and we are showing off every corner and aspect of that chaos through these accessories.
In addition to that, fall means having to wear oversized coats, bulky sweaters and layers of scarves so wearing a dainty polished jewelry just won't cut it, and the best way for you to accessorize is to wear jewelry that is equally as oversized and bulky as our fall clothes.
How to Wear This Jewelry Trend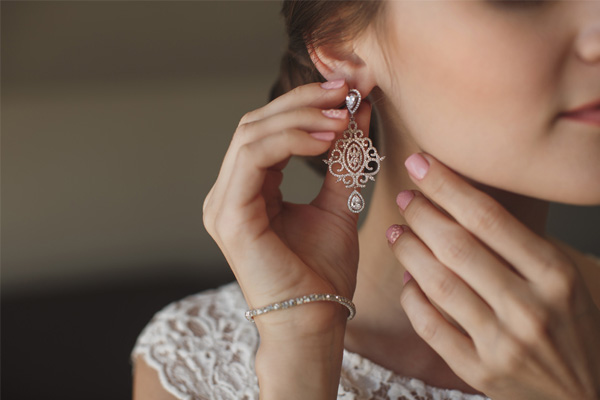 Sure, the raw stone cut is indeed attractive, and everyone would want to wear them. But since this trend is still new territory for most of us, it is pretty understandable that we have no idea on how to style them. If you are planning to jump on the bandwagon, but you have no idea where to start or how to style it, then we are here to assist you in your accessorizing dilemma. Below are some simple tips and tricks on how to make raw stone jewelry the focus of your outfit
1. Make it The Focal Point.
Just one look at this jewelry style and you will already understand the fact that they should take center stage in your outfit so there is no use for you to find clothes that are trendy because this jewelry will up the style factor of any outfit that you have on.
The best way to let the jewelry be the center of attention is to keep your outfit as simple as possible. Just wear the plainest most boring sweater and scarf you have ever seen. Put a necklace or earrings on, and you will look the trendiest woman in the crowd. After all, these are called statement jewelry for very good reasons.
2. Opt For Chandelier Earrings.
If you have short hair and you truly adore the unpolished look of these gems, then the best accessory for you would be the chandelier earrings. Can you imagine wearing these gems for all to see? Your pixie cut will surely look a lot more elegant and edgy when you put these earrings on!
3. Roll Up Your Sleeves.
The weather during fall can be quite chilly, so there's a chance that you will be wearing long sleeves all season long, right? If that's the case, then there is no opportunity for you to wear chunky gem stone bracelets, right? Wrong! Even if you wear long sleeves, you can still show off your beloved bracelet simply by rolling your sleeves. Just a simple reminder—when you have a chunky bracelet on, you no longer need any other gems to spice up your look.
4. Skip the Nail Polish.
One of the most popular pieces that you can see nowadays is cocktail rings with giant marbled stones. If you plan on wearing this ring, we suggest that you skip the polish. After all, your ring will be more than good enough for your hands.
5. Use it to Dress Up a Graphic Tee.
The best thing about the edginess of these raw pieces is that you do not have to wear gowns or dresses so that you can accessorize with them. Their rawness makes them perfect for accessorizing even the simplest of clothes that you have. So if you are a shirt and pants kind of lady, don't worry! You can easily use these pieces to dress up your casual and laid back clothes!
6. Wear it to Make an Artistic Expression.
This jewelry is not just for fashion lovers or the girl-next-door ladies; it is for the art lovers too! After all, their unique shape is truly a work of art that deserves to be highlighted in your outfit so do not be afraid to experiment!
Related – LATEST SUMMER JEWELRY TRENDS YOU SHOULD DEFINITELY TRY THIS SEASON
Truly, the jewelry industry (along with its patrons) have come a long way this year. From the perfectly cut and polished diamonds and gems, we are now embracing the imperfect yet edgy and eye-catching look of natural stone jewelry.
It looks like people and the fashion industry have started to see imperfection as a work of art, and we cannot blame them! After all, there is something about the rawness of these pieces that will make it hard for you to take your eyes off them.
So what are you waiting for? Spice up your outfits with these oversized and far-from-perfect pieces, and you will certainly be a cut above the rest!
"Hope you find the post helpful and we excited to hear what you think of it!"