Overview
Avene claims to have more than 270 years of experience in caring for delicate and sensitive skin. However, they don't have an impeccable reputation in the skin care industry. The primary active ingredient of their formulations is their signature thermal spring water, which is said to have powerful soothing, softening and calming effects on the skin. However its effectiveness is not clinically proven & very few positive customer review available.
To apply this soothing eye formula, dab around the target area using a finger then continue to do so until it is absorbed. For best results, use in the morning and evening; you can also re-apply as needed.
This product is being sold online for $27 (0.33 fl. oz.).
Special Offer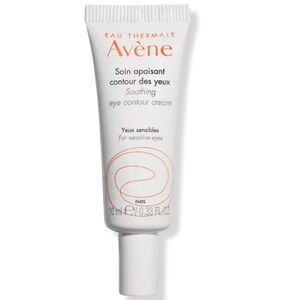 Avene Soothing Eye Contour Cream
Avene claims to have more than 270 years of experience in caring for delicate and sensitive skin.
Avene Soothing Eye Contour Cream Description
A lightweight topical concoction, Avene Soothing Eye Contour Cream is formulated to soothe and relieve puffiness in the eye area. It uses a combination of ingredients that provide intense hydration and antioxidant protection. This product is said to be ophthalmologist tested in order to ensure the safety of users. Additionally, it is free of fragrance and paraben so the product suits most skin types, even those that are slightly sensitive.
In this review we'll be covering all the details, positives, and negatives so you can have the facts when it comes to this product. This article works in a way so you will be able to see multiple points of view before you decide to buy.
Avene Soothing Eye Contour Cream Ingredients
Avene Thermal Spring Water:
It is said to offer powerful soothing effects that can help soften eye contour.
Glycerin:
May help skin retain moisture while reducing inflammation but also can cause skin irritation to sensitive skin.
Sodium Hyaluronate:
This moisturizing ingredient gives hydration to the skin and locks the moisture inside the cells for a lasting hydrating effect. However it can cause itching or skin irritation.
Dextran Sulfate:
For soothing inflamed skin and reducing puffiness under the eyes. However, there isn't much evidence of their effectiveness in addressing eye puffiness or bags.
Pros and Cons of Avene Soothing Eye Contour Cream
This formulation is lightweight and non-greasy.
It provides intense hydration to the delicate eye area.
The product contains anti-inflammatory and soothing ingredients but few ingredients can cause harm to sensitive skin.
It is known to have effects that don't last very long.
Some people can develop skin irritation from using it.
The price is high for something that works just like an ordinary moisturizer.
This product doesn't deliver dramatic effects in reducing eye puffiness and bags under the eyes.
Avene Soothing Eye Contour Cream doesn't come with a money back guarantee.
Guarantee
No free trial or money back guarantee is specified on the official Avene website.
Conclusion – Recommending To Purchase?
A closer look at the key ingredients of Avene Soothing Eye Contour Cream will make it obvious that this is not an exceptional product. According to product reviews, it is merely an intense moisturizer and you can actually get the same results from formulas that are considerably cheaper. It is worth considering if you don't care about wasting money, but there are a lot of better formulations on the market.