One of the most awaited events for 2018—the Golden Globe Award—has just come to pass and it may just be one of the best awards night ever. While the carpet is still red and the trophies are still yellow, the gowns are quite different this year—they are all black!
Most of the Golden Globe Awards 2018 attendees opted to went dark to show support and to raise awareness for the sexual harassment victims. But even if they wore their gowns to make a political statement this year, they did not forget to leave behind a fashion statement along the way.
If you think that black is boring, think again. You will be amazed at how the designers were able to make the color black look more colorful than it can ever be! Without further ado, here are the top 11 red carpet looks that have ruled the 75th golden globe awards:
1. Margot Robbie

With her stunning height, amazing physique and long legs, Margot is sure to be a stand out in the Golden Globe Award but the long sleeve full-length robe that she wore to the awards night made her a total head turner. The dramatic sparkle and embroidery of the dress are just simply amazing!
2. Emma Stone

This young actress has always been the darling of the crowd. But everyone fell in love with her one-shouldered black lace gown that looked utterly feminine on her.
3. Catherine Zeta-Jones

The seasoned actress walked the Golden Globe Award red carpet wearing a Zuhair Murad Couture lace black see-through dress that accentuated all of her curves. The dress has everything you can ever find in a red carpet dress. It's classy, sexy and definitely sassy!
4. Alison Brie
The shy looking young actress strut down the Golden Globe Award red carpet looking oh-so-classy and extremely chic in her Vassilis Zoulias ensemble. Her dress is possibly one of the chicest and most elegant jumpsuits that we have ever seen!
RELATED: 2017 Teen Choice Awards Looks: The Top 11 Best Red Carpet Looks.
5. Rita Moreno
Many women went with the androgynous style, but it is only Rita Moreno that made it red-carpet worthy! She wore a leather jacket and pant ensemble but what made her look stood out are the gold studs that adorned her sleeves.
6. Alicia Vikander

No one can resist the beauty and elegance of the Louis Vuitton full-length gown that Alicia wore to this year's Golden Globe Award. With its high neckline, long sleeves, lace, and beads details, it is the perfect combination of traditional and chic.
7. Kendall Jenner
Of course, you would expect a Jenner to be on this year's list! Kendall wore a Giambattista Valli black ball gown that is fun, chic and totally party-ready! Oh, we also adore her black pointy pumps that made her look more eye-catching!
8. Diane Kruger
Every year, we expect Diane to throw one of the best red carpet looks and for the 2018 Golden Globe Awards, she certainly did not disappoint! All clad in an astonishing Prada ensemble with silver beading details, Diane walked down the runway looking like a goddess!
RELATED: The 15 Biggest Fashion Moments Of 2017
9. Reese Witherspoon
The Zac Posen one shoulder-black dress of Reese maybe the simplest dress in this list but rest assured—it is one of the best there is. The streamlined silhouette and the fit of the gown are incredibly flattering to her figure. Indeed, simplicity is beauty!
10. Halle Berry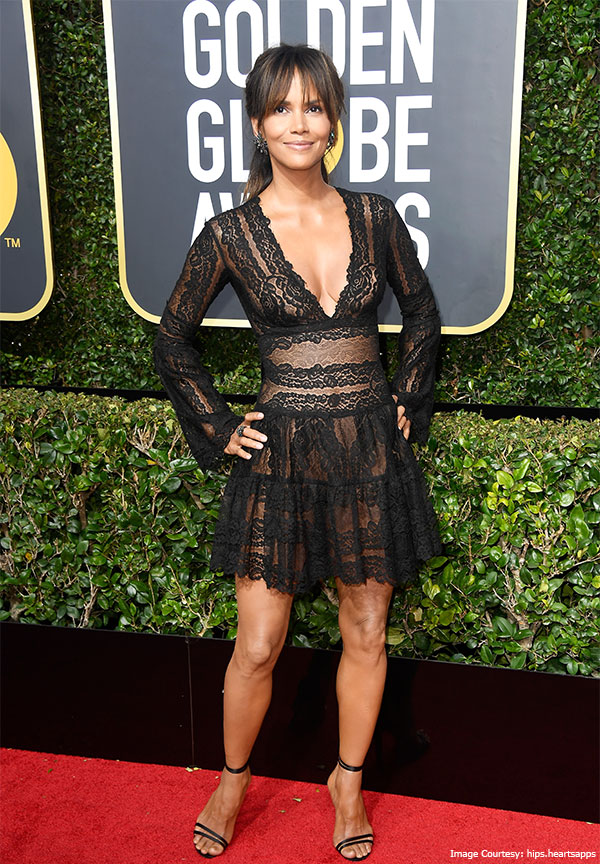 Halle Berry is the epitome of sexiness in this year's awards nights. The sexy actress showed off her amazing physique in a knee-length lace dress with plunging neckline that placed her cleavage and legs on display. When you take a look at Halle Berry on the red carpet, you wouldn't think that she is already a mom of two!
11. Kate Hudson
Equally sexy in the red carpet is Kate Hudson who don a Valentino gown with a deep plunging neckline and see-through design that showed off her legs. The outfit perfectly matched her short chic do and no-nonsense personality.
The golden globes nominations 2018 is over, and the golden globes winners have been announced but what these gowns symbolize will definitely come to stay. We highly respect these women who can make a stand in the most stylish way possible!
"Hope you find the post helpful and we are excited to hear what you think of it!"