What Is Skinceuticals Daily Moisture?
SkinCeuticals Daily Moisture is marketed as a lightweight, hydrating cream, which is intended to minimize the look of pores as the skin is moisturized with purifying botanical extracts.
How Does Daily Moisture Skinceuticals Work?
SkinCeuticals Daily Moisture hydrates the skin and protects it from environmental aggressors with Vitamin E and antioxidants. With continued use, the skin is hydrated and moisturized thanks to its inclusion of algae extracts. Pores are left looking minimized and the skin is moisturized with purifying botanical extracts. This lightweight formula leaves skin feeling soft without a greasy finish.
This product may be applied during your morning and evening skin care routines. After cleansing and toning the skin with your preferred products, apply a dime-sized amount of SkinCeuticals Daily Moisture to your face, neck, and chest to provide lasting, deep hydration.
SkinCeuticals Daily moisturizer Retails for $62.00 for 2.0 oz. of product on several well known skin care retailer websites and SkinCeuticals' own website.
Special Offer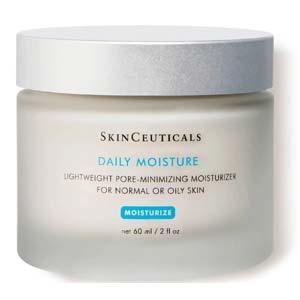 Skinceuticals Daily Moisture
SkinCeuticals Daily Moisture is a lightweight, hydrating cream, which is intended to minimize the look of pores as the skin is moisturized with purifying botanical extracts.
What Are the Skinceuticals Daily Moisture Ingredients?
Witch Hazel
This natural astringent removes excess oil from the skin and helps to keep skin clear and smooth.[1]
This well-known anti-aging ingredient deeply hydrates the skin, plumping up fine lines and wrinkles, and provides lasting moisture.[2]
Vitamin E
This ingredient protects the skin from environmental aggressors that may cause damage to the skin and early signs of aging.[3]
Antioxidants
These ingredients protect the skin and keep it looking youthful.[4]
Pros and Cons of Skinceuticals Daily Moisture
This product was created by a well-known brand in the skin care industry.
This moisturizer is intended for all skin types.
This product hydrates and nourishes the skin as it protects against environmental aggressors.
This skin treatment is lightweight and wears well under makeup.
This product is a bit pricey for anyone on a budget.
This product claims to protect the skin against environmental aggressors, but does not contain broad-spectrum SPF protection.
This moisturizer contains several problematic plant extracts that may cause irritation for those with normal to oily skin.
Algae extract can't address the size of pores.
Skinceuticals Daily Moisture Before and After
Is Skinceuticals Daily Moisture Recommended to Purchase?
A nice lightweight moisturizer is the perfect addition to anyone that wants to get serious about her skincare routine . SkinCeuticals Daily Moisture is intended for those with normal to oily skin. Although it's infused with skin healthy ingredients, there are some issues that we'd like to address before you consider purchasing.
This moisturizer is quite pricey for anyone that may be on a tight budget and you'll find yourself spending more money on a broad spectrum SPF for the added protection you need. It's unfortunate that this product claims to protect against environmental aggressors without the inclusion of sun block. This moisturizer also contains several problematic plant extracts, which may not be suitable for those with normal or oily skin types.
Lastly, this product cannot actually make pores smaller. Cinnamon and ginger can slightly inflame the skin and make pores appear smaller temporarily, but this is not something we'd recommend you apply to your face on a daily basis. We'd recommend continuing your search for a lightweight moisturizer, which contains adequate protection, without the irritating benefits.
Does Daily Moisture Skinceuticals Come with a Guarantee?
SkinCeuticals Daily Moisture is available on SkinCeuticals' own webiste. If you are not happy with this product for any reason, you may return it for a full refund, within 90 days as long as you have proof of purchase.
FAQ's
How to use SkinCeuticals daily moisture?
A: Apply a generous add-up to the whole face, neck, and chest. Safe for use twice a day. For morning use, apply after a SkinCeuticals vitamin C cell antioxidant serum and before a SkinCeuticals sunscreen. For evening use, apply after retinol application.
Is SkinCeuticals daily moisture safe?
A: SkinCeuticals products are all protected to use during pregnancy with the exception of retinol. So you are safe.
Skinceuticals Daily Moisture Reviews
Nice light day cream!
The SkinCeuticals moisturizer has been great for my skin. It is lightweight on my face while providing just the right amount of moisturizer. ~ SusanV
Obsessed
I am literally obsessed with Skinceuticals Daily Moisture If you are looking for a lightweight moisturizer then this cream is the best face moisturizer for daily use. ~ Lauraann
Lightweight yet hydrating, great for oily skin!
Skinceuticals Daily Moisture is best suitable for oily skin also in the summer days, especially since it doesn't look heavy on the skin. Highly recommended!! ~ Nica
Final Thoughts:
SkinCeuticals Everyday Moisture attempts to hydrate and sustain skin while lessening the presence of expanded pores. Figured out with nutrient-rich algae extracts removes and a mix of organic concentrates, this everyday moisturizer safeguards skin and leaves it feeling soft and smooth with practically no oily buildup. Made for combination, oily, and normal skin types, this moisturizer assists with adjusting oil creation while giving the ideal measure of moisture to refine pores.