Great eyebrows don't happen by chance. They always happen by appointment. For yours to be recognized as a beautiful eyebrow, you have to sacrifice towards making it happen. A woman's eye browse will always speak louder than her words. They are a true definition of beauty as they perfectly complete the sequence of a pretty face. When it comes to eyebrows, however, the truth is that much adoration is focused towards the thicker ones. Currently, thick eyebrows are on demand, and it's every diva's dream to have such on them. Personally, I find that nothing frames a face so beautifully or gives an instantaneous lift quite like perfectly shaped brows. As we all know, beauty is identity, and our facial features such as the eyebrows can reflect our cultures, sexuality, race or even our stands pertaining various social and political issues surrounding us. Despite various women born with naturally thick eyebrows, there are those who don't have the thicker ones and others face hair loss. They are left to find ways on how to thicken eyebrows. Well, for those with scanty eyebrows, there are various eyebrow products in cosmetics and other shops that make eyebrows fake. However, various remedies can help you learn about various ways of how to get thick eyebrows within a week. Before learning these ways, let us first cover the question;
How Do I Get My Eyebrows To Grow Back?
After the first youthful siege, eyebrows tend to stay dormant. People tend to worry if they will ever grow again. Others have been plucking them hoping that the eyebrow growth will increase massively only to be disappointed. The best thing to do for eyebrows that need to grow is to stop plucking them completely since ripping the hair out will disrupt its growth circle. To get the eyebrow hair growth back, all you need is just a lot of patience with the right technique. With the following ways, I would guarantee that your eyebrows will grow faster:
Avoiding all waxing and tweezing to encourage regrowth.
Massage your brow area and exfoliate it to encourage the follicles to produce hair.
Allow professionals to do your brows maintenance for you.
Reduce use of bro pencil.
Regrow your eyebrows from inside out through incorporation of nutrient-rich foods such as omega-3 and proteins that stimulate hair growth.
With the guarantee that your eyebrows will still grow back, most ladies are still eager to learn on how to thicken eyebrows. Well, various eyebrow growth home remedies can help you get thick eyebrows fast. Here are some of the ways to get thicker eyebrows;
1. Use Of Coconut Oil
This is one of the vital ways on how to thicken eyebrows. The coconut oil can promote eyebrow hair growth since it contains various proteins and nutrients full of vitamin E and iron. All this can help in making thick eyebrows. To make the eyebrows thicker and darker, all you need is putting some drops of warm coconut oil at your fingertips and massage the eyebrows with the oil gently to promote blood circulation. You will be required to leave it overnight and rinse the next day. If done daily for about two months, you will notice the presence of thicker eyebrows starting to form.
2. Use Of Olive Oil
This remedy on how to thicken eyebrows promotes hair growth since olive oil is rich in vitamin E. The presence of vitamin E can make hair eyebrow hair to grow faster and thicker as well as darken it. For this remedy to be effective, you will have to massage the eyebrows using warm olive oil for 4-5 minutes and eave it for through the night. It should be rinsed in the morning. You can also apply olive oil and honey mixture to massage for five minutes before leaving for 30 minutes then wash it off.
3. Use Of Egg Yolk
On this remedy on how to thicken eyebrows, your eyebrows hair is guaranteed to improve and become thicker. Keratin protein makes up the hair of the eyebrows, while eggs, mostly the yolk is an important source of protein hence can help promote eyebrow hair growth. All you need to do is to separate the white part of the egg from the yolk after breaking it then stir the yolk till it becomes fully creamy. With the help of a cotton swab or cotton ball, you will apply the yolk on each eyebrow then leave for 20 minutes before washing it off using cold water. To get better results on how to thicken eyebrows, you can make use of this treatment for like twice a week.
4. Massage Onion Juice Into The Eyebrows
With onion juice, your eyebrow hair will be aided to grow faster. This will help on how to get thick eyebrows within a week. The presence of sulfur in the juice will promote collagen tissues production that is vital for eyebrows growth and strengthening of hair follicles. For the juice to be made, you have to grind one small onion and extract juice from it. Massage the eyebrows with the juice for five minutes then leave it to dry before washing it off with cold water. If treatment can be done at least once a day for some weeks, then better results can be seen.
Related:- WHY ARE EYEBROWS SO IMPORTANT? SEE HOW THEY CHANGE THE WAY YOU LOOK
5. Apply Fenugreek Seeds Paste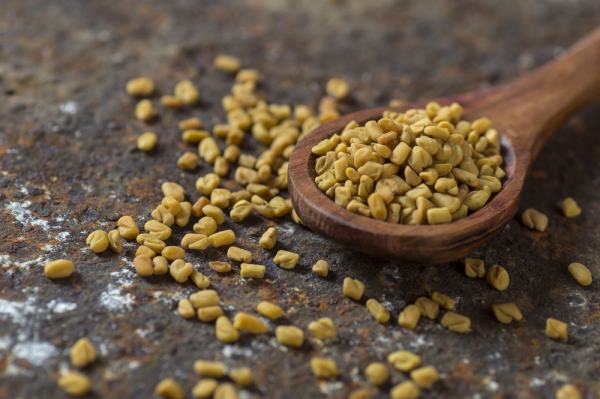 A lady with a killer pair of brows has fire in her soul. For, your eyebrows to flourish always use Fenugreek seeds. These seeds are rich in proteins, nicotinic acid, and lecithin that enhance hair growth. They help in rebuilding hair follicles. A teaspoon of the Fenugreek seeds should be soaked in water for around five hours then grind the soaked seeds into thick paste with the help of some coconut oil. The paste should then be applied to the eyebrows just before going to bed and left overnight then washed in the morning with warm water.
6. Use Of Castor Oil
This is one of the oldest and highly effective methods on how to thicken eyebrows. Castor oil is rich in proteins, fatty acids, vitamins and antioxidants which help nourish hair follicles. Castor oil applied every day on the eyebrows roots will promote thicker and stronger hair strand. With use of fingertips, you should massage few drops of castor oil into the eyebrows then left for thirty minutes. You can then use a makeup remover to clear it off before washing it off with warm water.
7. Use Of Milk
Your eyebrows introduce you before you speak. For strong and thicker eyebrows, milk can help eyebrows naturally. Milk contains proteins that can lead to fast maturity of healthy hair. All you need to do is to soak a cotton swab in milk then rub it gently and leave for 20 minutes before washing with warm water. If practiced on a daily basis, best results can be guaranteed.
When you follow the above remedies with correct application means, then you will automatically get the desirable results. With the above remedies, you can now rock the world with killer eyebrows.
"Hope you find the post helpful and we are excited to hear what you think of it!"