Overview
Peeking for an effective way to make your skin look more vibrant and brighter?
These powerful skin care products penetrate deep into the skin and deliver active ingredients to fade blemishes, even skin tone, and enhance radiance.
In this article, we'll highlight some of the best face serums for brightening, based on expert reviews, customer feedback, and our own experiences.
Whether you want to give your skin a boost, we've got you covered.
So take a seat, unwind, and get ready to learn about the top serums for a lighter, more radiant complexion!
Tru Alchemy is a relatively new skincare brand that focuses on clean, natural ingredients and sustainable packaging.
Tru Alchemy Spot Check Serum is designed to target specific areas of hyperpigmentation, dark spots, and blemishes with the goal of reducing their appearance over time. But does tru alchemy spot check serum actually work?
"Tru Alchemy's Spot Check Serum is a game-changer in the world of skincare. It contains powerful ingredients that work together to target blemishes and dark spots, leaving your skin looking clear and bright," says Dr. Angela Kim, Board-Certified Dermatologist.
In this review, we take a closer look at Tru Alchemy's Spot Check Serum to help you decide if it's worth adding to your skincare routine.
What Is Tru Alchemy Spot Check?
Spot Check is a purely organic formula made up of several key skin care ingredients for the promotion of anti-aging benefits and the removal of dark spots in the skin.
The manufacturer is a brand new company, Tru Alchemy, which has made a huge splash in the market for its high-level skin care.
Vogue highlighted this product as one of 2022's Best Face Serums for Brightening. In addition, Byrdie called it the Best Niacinamide Product for Dark Spots.
It's priced very reasonably, and you can get discounts on bulk purchases.
How Does a Spot Check by Tru Alchemy Work?
Tru Alchemy Spot Check Dark Spot Remover is a skincare serum specifically designed to brighten the skin and remove dark spots and areas of pigmentation.
In addition, it's a powerful moisturizer that eliminates dryness and keeps the skin hydrated.
Spot Check is also an anti-aging product that boosts collagen production, tightens the skin, improves elasticity, and smooths wrinkles and fine lines.
It leads to an overall brighter, healthier, younger-looking complexion.
"Tru Alchemy's Spot Check Serum contains a blend of natural extracts and acids that work to gently exfoliate and brighten the skin. I highly recommend this serum for anyone looking to improve the overall texture and tone of their complexion." Dr. David Park, Cosmetic Dermatologist
Quick Facts & Features
Safe & Quality
Brand
Tru Alchemy
Product Name
Spot Check
Form
Serum
Weight
1 fl oz
Safety
Paraben-free & Sulfate-free
Ages
Aging
Skin Type
All
Benefit

promote a clearer complexion
Effective Spot Treatment
Made with natural ingredients

Active Ingredients

Vitamin A
Niacinamide
Retinyl Palmitate

Price
$59.00
Shipping
Free
Return Policy
60 Days Money Back Guarantee
What Are The Tru Alchemy Spot Check Key Ingredients?
Niacinamide
This is Vitamin B3, a potent antioxidant that can repair damage to the skin and protect it from further harm. In addition, it can remove dark spots, eliminate redness, and fade wrinkles and lines.[1]
A study in the Journal of the American Academy of Dermatology concluded that niacinamide improved skin texture, red blotchiness, and hyperpigmentation.
Hyaluronic Acid
This is a proprietary hyaluronic acid blend that draws a tremendous amount of moisture, hydrating the skin and eliminating dryness. [2]
It also helps to plump the skin and smooth wrinkles and lines. Hyaluronic acid is also found naturally in the skin and connective tissue.
A study in Dermatology and Therapy confirmed the powerful hydrating benefits of hyaluronic acid for the skin.
Polyglutamic Acid
This is a compound of amino acids which can hold 4 times more water than hyaluronic acid. It hydrates, eliminates wrinkles and lines on the skin, and it can also heal wounds and diminish redness.
It's a potent antioxidant that can repair and protect the skin.[3]
An article in Semantic Scholar discussed this ingredient as being a novel peptide in skin care.
Betaine
Betaine has been shown to have anti-inflammatory properties against skin irritation, which can reduce the risk of products causing reactions.
Betaine's main function in cosmetics is as a moisturizer and anti-irritant, It is to lighten hyperpigmented spots.[4]
Tridroxy Acid Blend
It effectively works on sunspots, post-blemish shadows, and other unwanted imperfections.
The hydroxy acid blend encourages newer-looking skin at the cellular level and is formulated with an ultra-potent form of antioxidant vitamin C, plus the brightening power.[5]
White Shiitake Mushroom
It's actually a popular ingredient that acts as an excellent natural supplement to support the health of your skin.
White shiitake mushrooms are highly praised for their ability to reduce the appearance of photodamage and acne scars.
Their skin healing properties improve barrier strength, promote faster skin regeneration, and increase skin elasticity. [6]
Vitamin C
Vitamin C-based skin care products can make dark spots lighter than the rest of your skin, a condition known as hyperpigmentation.[7]
"It's a powerful antioxidant, inhibits pigment production, and reduces inflammation, so it's a key component of many skin-lightening treatments," says the Certified Director of Cosmetics and Clinical Research at Mount Sinai's Department of Dermatology. Dermatologist Joshua Zeichner, MD explains. York City.
What Are the Pros and Cons of Tru Alchemy Spot Check?
This formula helps to smooth out wrinkles and lines.
It contain effective at treating blemishes and promoting clear skin.
Spot Check helps get rid of redness and blemishes scars.
Spot Check by Tru Alchemy helps to balance out skin tone.
The cost of the product is very reasonable.
There are no free product samples available.
Some customers may not like the melon cucumber scent.
It occasionally goes out of stock due to high demand.
Tru Alchemy Spot Check Review – Check Out Customer Results
Jessica Lee, Licensed Esthetician: "I love how lightweight and fast-absorbing Tru Alchemy's Spot Check Serum is. It's perfect for incorporating into your morning routine to help prevent and treat blemishes throughout the day."
Tru Alchemy Spot Check works well and in a short, you will notice the best results. ~ Terri Leven
The Spot Check is too liquid when I apply it on my face it runs like water but it is effective. ~ Bella
This Spot Check Tru Alchemy is fragrance-free. It helps to make my face feel softer and also reduces the redness. I have very sensitive skin and it is best suitable to my skin type. ~ Annie
I have tried numerous products and this one actually works great. I have only been using it for a week and you can already see the results. I do have sensitive skin and had no problems with this. Highly recommend. ~ Dorthy Deering
I've only been using this for over a week and already I see a difference on my face. My skin tone is evening out, my face feels moisturized, and I look younger. Will definitely start a subscription. ~ Carol A. Therrien
I just recently received Spot Check. So far I am loving the feel of the product and how easy it blends in. I'm anxious to see the results after long-term use. Nice product! ~ Doris Thomas
I am 48 and have tried so many different products. This works! I noticed a difference almost immediately and within a week people started to notice. My skin looks better than it has in years I am so grateful and it is well worth the price. ~ Shelley
This product actually does fade the age spots and brightens my skin just like it is advertised to do!! So glad I decided to give it a chance. ~ Rhonda B
So, I've been using this product off and on for a few months mainly on some brown spots on my face and back… And I can see the difference: My dark spots appear to be slightly disappearing. I am very content with this selection and with this product. ~ Alma
The Evidence Score
Improve Appearance in Skin's Smoothness

4.5/

5

Strengthens Skin Barrier

4.8/

5

Long-Lasting

4.0/

5

Targets Fine Lines and Wrinkles

4.7/

5

Boosts Elasticity & Collagen Performance

4.5/

5

Healthy Aging

4.3/

5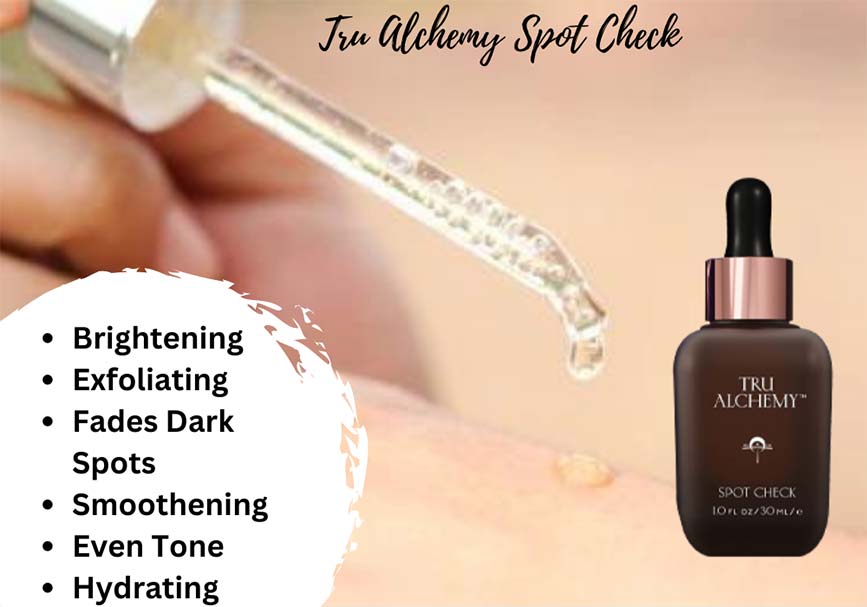 FAQ's
Who Is Spot Check For?
A: Spot Check by Tru Alchemy is the ideal formula for users of any age who have dark areas of hyperpigmentation and want to eliminate them and brighten the skin.
It's also a potent anti-aging product for those who want to look younger and remove wrinkles and lines.
This serum is also a good idea for younger users who have not developed lines yet but want to slow the aging process.
How to use Tru Alchemy Spot Check?
A: Rub 1-2 pumps into the skin utilizing delicate circular motions. To use as a spot treatment, touch directly onto areas of concern. Use morning and night. Toward the beginning of the day, follow with sunscreen.
What Are the Side Effects of Spot Check?
A: Spot Check is a very safe, purely organic formula that is free of harmful agents like sulfates, dyes, fragrances, and parabens.
It's very unlikely to cause you any kind of skin irritation or reaction. There are really no side effects associated with using this serum.
Does Tru Alchemy Spot Check Work?
A: Spot Check contains fixings that block melanin creation, preventing dull regions on the skin and assisting with fading them.
Planned with performing multiple tasks niacinamide and a mix of lactic acid, glycolic acid, and phytic acid to lift away dry, dull, and stained skin cells tenderly.
"As a dermatologist, I'm always on the lookout for effective skincare products for my patients. Tru Alchemy's Spot Check Serum has impressed me with its ability to reduce the appearance of hyperpigmentation and acne scars," says Dr. Sarah Patel, Dermatologist
Which Is Best for Dark Spots?
A: This little-known ingredient is a dermatologist-recommended treatment for dark spots on your face. So what exactly is it? "Azelaic acid is a natural extract found in oats, wheat, or rye that prevents the development of abnormal pigmentation," explains Dr. Illustrator.
What Is a Spot Treatment for the Face?
A: The spot treatments target specific areas of the face to address skin issues such as blemishes, dark spots, age spots, sun blemishes, and uneven skin tone.
What Does a Spot Serum Do?
A: A dark spot corrector and brightening serum that helps visibly reduce dark spots, hyperpigmentation, and post-acne blemishes.
Is Tru Skin Good?
A: According to tru alchemy reviews, It is an overall brighter complexion, fewer blemishes, and acne scars, and an even complexion. The nasolabial folds gradually become thinner. Users also report less acne and improved skin texture.
Where Are Tru Alchemy Products Made?
A: The headquarters are located in Burbank, California. We have distribution centers in Burbank and Utah. All of our products are made in the USA.
Does Tru Alchemy Spot Check Serum Treat Dark Spots?
A: Luckily, you can get rid of dark spots with the help of Tru Alchemy Spot Check serums. It is a specific serum on the market that is formulated to reduce these spots.
"Tru Alchemy's Spot Check Serum is a great option for those with sensitive skin. Its gentle formula doesn't cause irritation, yet it still effectively targets and fades dark spots and blemishes," explained Dr. Karen Wu, Board-Certified Dermatologist
Is There a Dark Spot Remover that Really Works?
A: It is clinically proven to be effective in treating dark spots on all skin tones. Its non-irritating formula contains highly effective anti-pigmentation ingredients niacinamide and hydronic acid.
How Long Does It Take for Tru Alchemy Spot Check Serum to Work?
A: The best results are usually obtained with continuous use over a long period of time. We recommend the Tru Alchemy Spot Check Serum to see visible signs of improvement it will take at least three months.
It targets aging skin, uneven skin tone and texture, sunburns and blemishes, hyperpigmentation, and fine lines and wrinkles.
What Is the Best Time to Apply Tru Alchemy Spot Check on the Face?
A: Most face serums are safe to use twice a day, once in the morning after cleansing, before applying the rest of your makeup, and once at night before bed.
How Much Does Spot Check Cost?
A: Spot Check is for sale on the manufacturer's official website: tru alchemy spot check review, and from several other online retailers and some shops. The prices on the official site are as follows:
1 Bottle – $59
2 Bottles – $54/each
4 Bottles – $49/each
Subscribe and Save
1 Bottle – $25
2 Bottles – $23/each
4 Bottles – $21/each
Is This Product Recommended to Purchase?
A: Spot Check by Tru Alchemy gets high praise from us as a brand that fulfills all of our expectations, and more.
It includes a rich collection of ingredients known to provide great moisturizing, anti-aging, and lightening benefits.
Spot Check is all-natural and free of any harmful chemicals, dyes, fragrances, parabens, or sulfates. Being that it's such a strong formula, you'd think that the price would be high, but it's actually very reasonable.
This is certainly a strong brand that is at least as good as many of the spot remover and anti-aging formulas that are more expensive.
Many of the reviews of Tru Alchemy Spot Check indicated what positive results users are getting from this product. There were a number of people who said they already repurchased.
If you're looking for a great overall anti-aging skin care product and dark spot corrector, we highly recommend this brand.
What is the Money Back Guarantee
A: The manufacturer of this formula is offering a 60-day money-back guarantee. If you're not happy with the product, get in touch with customer service for return instructions and then send it back within 60 days of the purchase date. You'll get a complete refund.
Feature Competitor Product Comparison
| | Tru Alchemy Spot Check | Murad Dark Spot Correcting Serum | Neutrogena Dark Spot Corrector Serum | Dr. Dennis Gross Dark Spot Correcting Serum |
| --- | --- | --- | --- | --- |
| Product Images | | | | |
| Lowest Possible Price | $59.00 per serving | $83.00 per serving | $21.99 per serving | $92.00 per serving |
| Product Information | Sulfate-free & Paraben-free | AHA/Glycolic Acid | Mineral oil-free | Cruelty-free & Gluten-free |
| Concerns | Doctor Prescribed | Hydroquinone has caused | May occur mild burning and dryness. | Might be stinging, and redness. |
| Notable Ingredients Rating | 93% are liked | 57% are liked | 62% are liked | 86% are liked |
Tru Alchemy Spot Check Reviews Before and After – Reviews & Results
Final Verdict
Spot Check is a pure organic serum intended for the removal of dark spots, redness, blemish scars, and areas of hyperpigmentation on the skin.
It's a powerful moisturizer that gets rid of dryness and an anti-aging skin care product that can smooth wrinkles and lines. Spot Check is a high-quality formula of clinically tested ingredients and is reasonably priced.
Most of the Tru Alchemy Spot Check reviews were a pleasure to read because they had such wonderful comments about the product.
The vast majority of users found this serum very helpful as a dark spot remover and as an anti-aging serum. People said it was very hydrating, went on easily, and absorbed fast.
This serum is not only enriching to the skin, but it's also a very safe product that contains only pure organic ingredients.
It has no chemicals, dyes, fragrances, or other potentially harmful agents which could lead to a skin reaction or irritation.
Tru Alchemy Spot Check is certainly one of the top dark spot-removing/anti-aging serums on the market today.
If you would like to explore more about the best eye serum? we cover "Tru Alchemy Eye Elixir Review" with additional information.
It is a highly recommended product that offers several major benefits for users seeking to improve their eye care routine and helping to reduce the appearance of fine lines, wrinkles, and puffiness.